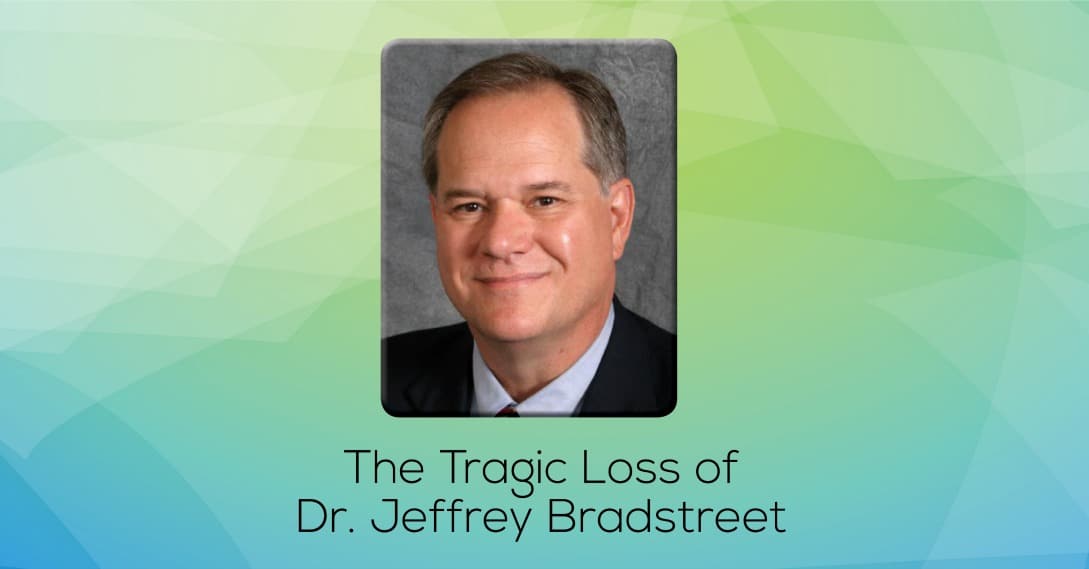 The Tragic Loss of Dr. Jeffrey Bradstreet
We have nearly one million doctors in the United States, but few with the vision, heart, and determination that Jeffrey Bradstreet (1954 – 2015) demonstrated.
When the Bradstreet's 18-month-old son, Matthew, showed signs of autism, Dr. Bradstreet began searching for answers. Like so many other parents in their situation, they wanted to recover the engaging, delightful child they had known and had lost.
Jeff Bradstreet found some of the answers he needed by collaborating with Drs. Bernard Rimland, Sidney Baker, and Doris Rapp— all of whom refused to accept the prevailing belief that autism could not be treated.
Matthew was just 4 years old when I interviewed his father, asking about the efforts he had found helpful. This was his response fifteen years ago:
"[Matthew was dealing with] idiosyncratic speech that was not meaningful. He could mimic speech, or repeat lines he had heard in movies or on TV. For example, if I told him I loved him, he might respond with a jingle from the Barney character. He also tended to flap his arms and hands a lot, much like a little bird trying to get out of its nest. He toe-walked, and had a lateral eye-gaze; eye contact was not good.

Matthew showed affection toward us as his parents, but social interaction with other people was inappropriate. He might completely ignore an adult family friend, then go up to a stranger and lean against them. He was also moody, with 'meltdown' tantrums. One of the most troublesome symptoms Matthew had was chronic, explosive diarrhea, and we could not potty train him.

He was hypersensitive to foods. Even a little bit of wheat, for example, would cause his face to flush, his ears would turn bright red, and he would have immediate diarrhea. I had, to a great extent, come to terms with the fact that Matthew was autistic. Although I obviously wished things were otherwise, I loved him and could accept his idiosyncrasies. It was actually the diarrhea that most concerned me. It was not only difficult for us to take him anywhere, but I didn't want him to face growing up with this serious problem."
One of the interventions that encouraged Dr. Bradstreet was Matthew's positive reaction to secretin infusions. It made a major change for his son and apparently a small subset of others reported success, but research later did not support its use for the wider autism community. This was one of several therapies he used. At the time, he told me that as a clinician he recommended looking at the health of the gut, electrolyte absorption, and ruling out seizures. Dietary change, the need for any nutritional supplements, and the use of probiotics to restore healthy bacterial flora would also be considered. Since that interview, through efforts by the Defeat Autism Now (DAN) project, collaborative efforts and his own research, Dr. Bradstreet's approach was fine-tuned and shared widely through conferences and publications.
Over the years, Matthew made dramatic improvement. In fact, we learned he was recently accepted to college. Challenges lie ahead for him, but his recovery should be considered remarkable by anyone's standards.
Dr. Bradstreet decried the conventional approach to autism spectrum disorders that stops at a diagnosis without looking for the source of symptoms, without considering the possibility of inflammation in the gut and central nervous system, ignoring any environmental insults, and neglecting the potential role of the immune system in these conditions.
An autism epidemic was underway. He dedicated himself to research, providing clinical therapy, and conference presentations. He recommended a comprehensive approach that included educational, behavioral, and biomedical interventions, and one that understood the concept that individual needs would vary.
Dr. Bradstreet's lasting legacy
Jeff Bradstreet reportedly helped 4,000 youngsters recover from autism and related conditions. He never called it a cure, and levels of recovery no doubt varied. But he and others have shown that autism can indeed be treated.
Unfortunately, not all children responded to the existing biomedical approaches. More answers were needed, so Dr. Bradstreet pressed forward in new directions. Some of his latest interests included stem cell research and the role of the endocannabinoid system.
He was well aware that critics painted him with a broad brush, accusing him of practicing pseudoscience and worse. Yet this did not dissuade him, because the success he and others who used similar approaches saw was undeniable. He was dubbed a "no-vax" doctor, though his concern over vaccine policy and safety was well thought out and much more complex than that.
At a recent conference he expressed enthusiasm that research is now validating some of the theories he and others proposed for autism more than 15 years ago.
As was widely reported, Dr. Bradstreet's died from a gunshot wound (June 19, 2015) a few days after his clinic office was raided by the FDA. An autopsy and investigation of his death are underway.
We may not understand how and why Jeff Bradstreet died. But countless families can tell you why he lived.
Moving forward without Jeffrey Bradstreet
Key people make remarkable, important discoveries, and when they leave this world their contributions are extolled. But there is rarely the same widespread, profound sense of loss as the integrative medical community is feeling over the passing of Dr. Bradstreet.
His compassion, humor, medical insight, and tenacious determination resonated with families and professionals alike. Grateful parents and recovered children clamored around him at conferences.
To a great extent, Jeff Bradstreet was the heart of a movement focused on exploring all options needed to restore health to youngsters suffering from autism and related conditions. It's a movement of people who know they can't wait around for published studies; there simply isn't time. Instead, they need to pave the way for that very research.
Dr. Bradstreet has left us but his work has not. The emptiness felt by his departure will remain for a long time.
Our organization sends our deep condolences to Dr. Bradstreet's family and to his patients, friends, and fellow researchers around the globe.
See Dr. Bradstreet's blog and our article Featuring the Work of Jeffrey Bradstreet, MD in Autism from a few years back. Videos of some of his presentations are available on YouTube and AutismOne.org.