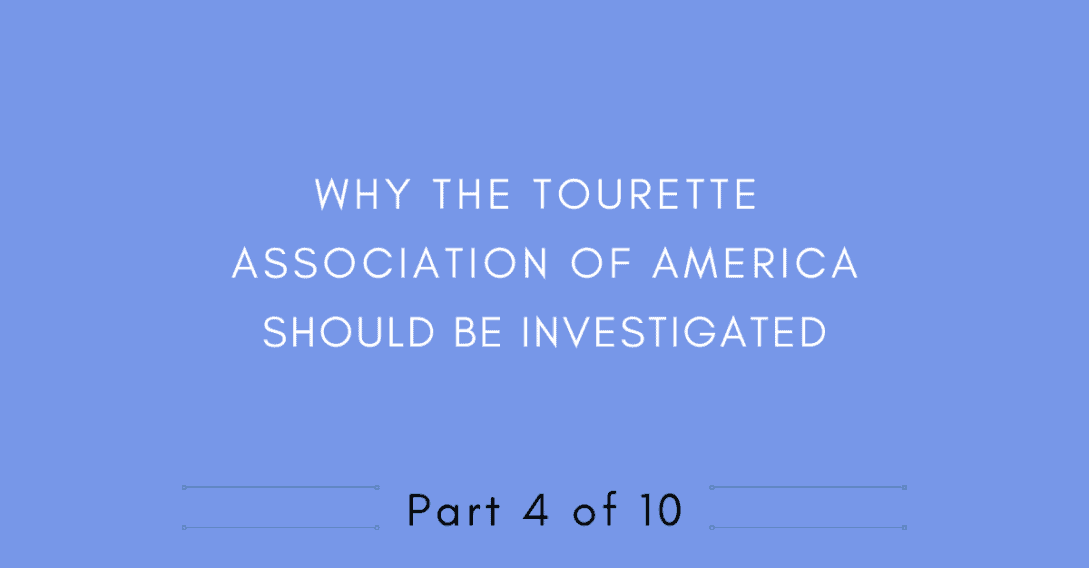 Why the Tourette Association of America Should Be Investigated: Part 4
Sheila Rogers DeMare, Director Association for Comprehensive NeuroTherapy
Dr. Marshall Mandell's amazing discovery was ignored by the TAA/TSA
Throughout his allergy practice, Marshall Mandell, MD, worked with more than 70 Tourette syndrome patients. He learned that tics and related symptoms could be triggered by foods, allergens, and chemical exposures. He found that each had an individualized profile, but the symptoms could often be reduced or eliminated without standard drugs.
This was big news! Or at least it should have been. But Dr. Mandell could not get the Tourette Syndrome Association (TSA) to show an interest in his findings.
It all started with a young girl. . . 
One day in the late 70s, Dr. Mandell was testing a girl for allergies. He found to his surprise that when she was tested for milk, she began ticcing and writhing uncontrollably. He had no idea why this occurred, but he did not forget the unusual response. 

In those days, Tourette syndrome was rare, and Dr. Mandell had never seen a case. Later he happened to view a documentary on Tourette syndrome and immediately recognized his patient's symptoms. He called the TSA and offered to test people free of charge in his office to see if they had an immune connection to their Tourette syndrome. The TSA passed his offer on to members, and 25 children and adults came to him for this special effort.  
Dr. Mandell found there was a significant link between TS symptoms and allergy in most of the patients in the group. Further, they were helped to varying degrees through allergy therapy, dietary changes, and/or avoidance of allergens and toxic chemicals.
The medical literature describes Tourette syndrome as "mysterious" because the symptoms wax and wane unexpectedly—they come and go. But, he recognized, this pattern is not always so mysterious after all. Environmental factors and diet could trigger symptoms in many cases. Families could have some control over Tourette syndrome!
Excited by his discovery, Dr. Mandell tried to get the Tourette professional community interested
FIRST: He informed the TSA medical board.
SECOND: He attended an international scientific symposium on Tourette syndrome sponsored by the TSA so he could share his work with those in the field. He took advantage of an open mike session to relate his findings. He later told me of his shock that "not one single person" in the audience showed any interest, asked a question, or followed up with him. Instead, he explained, they continued their programs discussing the serious side effects of drugs and how ineffective they were for Tourette syndrome.
I have on file a copy of a letter sent by Dr. Mandell to the TSA in 1983. In it, he addressed the refusal of the TSA to share the allergy connection with families. See below.
Excerpts from Dr. Mandell's letter to the TSA, February 2, 1983
I have made a large number of clinical and laboratory observations in a series of Tourette syndrome cases that have clearly demonstrated the importance of allergic and allergy-like sensitivity to many dietary and environmental factors in this disorder. Treatment of these demonstrable sensitivities to foods, beverages, chemical agents, indoor and outdoor air pollutants, and airborne allergens (dust, pollens, mold, etc.) has been highly beneficial in many cases. Symptoms have been reduced in frequency and intensity, and Haldol dosage has been decreased, even discontinued. [Editor: Haldol was the drug of choice for TS in the '80s.]
It is impossible for me to accept the frightening thought that this kind of information is not reaching those who need it so much. At the very least, each family should have an opportunity to make their own decision in a situation that is so important and may be significantly improved. —Dr. Mandell to the national Tourette Syndrome Association
Each child is a unique biologic and biochemical entity and my findings will not apply to every case of TS, but this is an extremely important area that requires immediate clinical application because many TS children have a great deal to gain and nothing to lose.
The parents of one of my most successful cases in Baton Rouge—her father was a doubting but now thoroughly convinced cardiologist—have tried in vain to reach other hopeful and searching parents to share the good news of their many important observations. Someone in your organization repeatedly refused to publish their report in your newsletter* and such activity is not worthy of a national organization. These actions can easily cause one to doubt the sincerity, or at the very least, the open-mindedness of your professional staff.
*After this letter of complaint, an excerpt of the cardiologist's report on his daughter was included in a TSA newsletter, discussed here.
The type of allergy therapy used by Dr. Mandell, provocation-neutralization, was controversial. At the time of his efforts, conventional allergists were at war with a small group of doctors who considered their specialized approach more effective. In fact, 15 years later Dr. Mandell was put on probation by a state board unless he made adjustments to his practice, which he refused do. Provocation-neutralization is currently practiced in Europe, the UK, and USA, and there is still controversy.
The TSA's inexcusable failure
THE BOTTOM LINE: A medical doctor selflessly investigated Tourette syndrome and shared findings that for the first time offered new treatment options for Tourettes. This work also dramatically changed the understanding of this condition.
Dr. Mandell did not claim the allergy connection applied to everyone, nor did he claim symptoms fully disappeared in all cases with his immune approach. But it helped many of them. His report could easily have been corroborated by interviewing all of the patients and families, had anyone at the TSA bothered.
The TSA boards should have explored this new avenue fully. Instead, they simply pointed out that double-blind studies on this are lacking and shoved it aside.
Parents should have been alerted that the foods they were feeding their children, and allergens and toxins in their own home, school, etc. might be making their child's Tourette syndrome symptoms worse.
A PERSONAL NOTE: Since the start of our organization, Dr. Mandell was a valuable member of our advisory board. I was at his home in Florida the last time we spoke. We discussed the situation with the  national Tourette  Association and he expressed his dismay and frustration at their ongoing dismissal of his findings for so many years. Dr. Mandell knew he would not live long enough to see his work validated by mainstream medicine. As our conversation came to a close, he quietly asked with tears in his eyes, "Do you think my grandchildren will know that I was right?"
I assured him they most certainly would.
Coming next in Part Five: The TSA dismisses allergist Dr. Doris Rapp's successful work with Tourette patients, featured on the Phil Donahue show