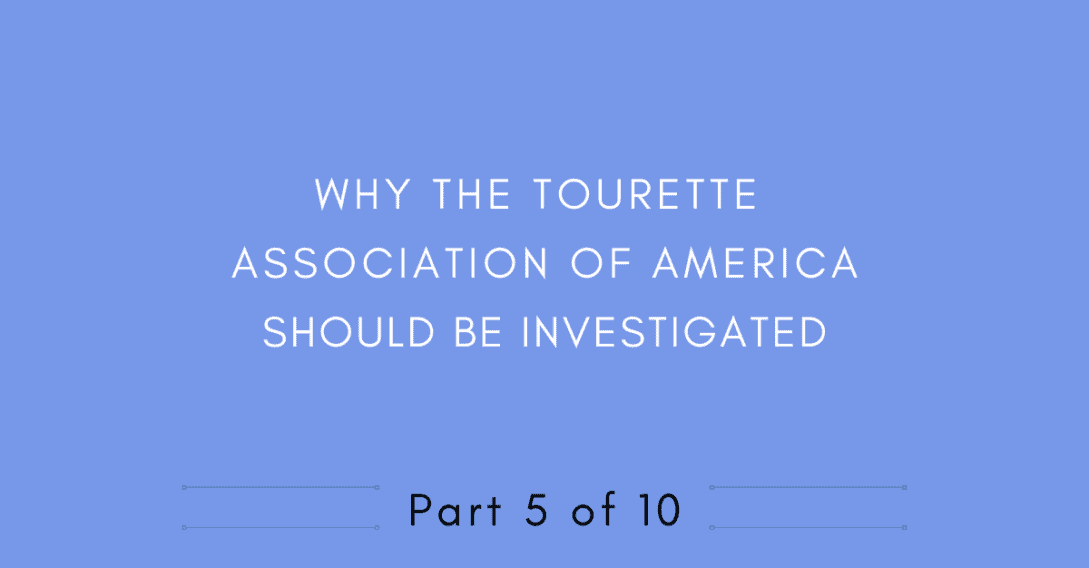 Why the Tourette Syndrome Association Should Be Investigated: Part 5
Sheila Rogers DeMare, Director ACN
The TSA ignored the work of Dr. Doris Rapp, who confirmed an immune link to Tourette syndrome on national television 25 years ago.
Best-selling author Doris Rapp, MD, is arguably the most noted allergist of our time. She has appeared on the Oprah Winfrey Show, Larry King Live, The Phil Donahue Show, The Maury Povich Show, The Montel Williams Show, and Nightline with Ted Koppel to discuss the role of our toxic environment, allergens, and foods on behavior and health. She is now retired from practicing medicine but remains active promoting her message.
Surprising findings shared on the Phil Donahue Show
In the late 1980s, Dr. Rapp brought children to the Phil Donahue talk show who had a history of major behavioral problems and/or academic difficulties. She also brought their very relieved parents, along with videotapes of allergy testing from her practice.
Dr. Rapp explained and demonstrated to a national audience just what was causing adverse symptoms and behaviors in these particular kids. It was not bad parenting. Not an emotional or permanent genetic disorder. Not spoiled children willfully acting out. Not lack of academic skills. Rather, allergens, foods, and exposures to toxic chemicals were causing uncontrollable neurological reactions. And the good news was, the symptoms could be controlled.
Tourette syndrome was among the conditions featured.
Dr. Rapp has often said the allergy connection is not the answer for all children with behavioral or neurological problems, but it can apply to many. She went on to write the acclaimed best-seller Is This Your Child? Discovering and Treating Unrecognized Allergies in Children and Adults. It includes a section about "Edward" and his Tourette symptoms and treatment (see below).
The story of young Edward and his severe case of Tourette syndrome
As a toddler, Edward had major allergies. In preschool, he developed disruptive behaviors. He could be very aggressive, had mood swings, barked and made noises, and suffered terrible, painful motor tics. The family was desperate for help. He was diagnosed with Tourette syndrome and placed on a standard medication for Tourette's but the side effects were not tolerable. His parents learned of Dr. Rapp and took Edward to her when he was six years old. The evaluation showed he was highly allergic to milk, eggs, seasonal allergens, molds, and some chemicals. He was so highly sensitive that some of the testing provoked negative behaviors or tics right away (this is not typical during allergy testing). Videotaping was done during testing.
Edward was extremely sensitive. It seemed like every time there was a major change in seasons, it would throw his treatment off and he had to be re-tested. If it hadn't been for Dr. Rapp, Edward would never have made it into regular education and out of the Emotionally Handicapped program the school had placed him in. I rotated his foods, and faithfully kept him on a strict diet. ~ Edward's mother to Sheila Rogers DeMare
Staff at the national Tourette Syndrome Association office reported they were flooded with phone calls and letters after Dr. Rapp's TV appearance.
What should the TSA medical board have done after Dr. Rapp's appearance on the Donahue show so they could give the best possible answers to parents and doctors?
Option One – The TSA should have:
Requested to visit Dr. Rapp's office to learn what she did for patients;
Contacted Dr. Rapp and asked her to speak to the TSA medical board;
Talked to Edward's family to confirm the account;
Revisited all previous reports received by the TSA from families and doctors regarding non-conventional therapy for Tourette syndrome to see if there is a pattern related to allergy, foods, toxins, and the immune system. (Spoiler alert: Yes, there is).
 Option Two – The TSA should have:
Dismissed Dr. Rapp as a misguided, uninformed doctor because her allergy approach was not mainstream;
Told the public that studies do not suggest tics are triggered by food, environmental factors or allergens;
Kept the public message focused on neurologists, psychiatrists, and drugs without opening the door to other therapeutic possibilities and medical specialities.
Take a wild guess. Did the TSA go with Option 1 or with Option 2?
Coming next in Part Six: Why Ginger Wakem started the Alternative Therapy Network for Tourette syndrome and why she gave up in frustration.