Research for Tourette Syndrome Fails Patients and Families
When it comes to new answers, Tourette's is losing the race
An objective assessment of progress in the field of Tourette syndrome leads to one conclusion: The narrow focus of current research is appalling. The medical community is disengaged and disinterested in the role of critical issues such as diet, allergy, chemical sensitivity, the environment, and other potential links to tics. In contrast, these topics have received considerable attention for related medical conditions.
Millions of dollars have been spent on genetics, drug therapy, behavioral intervention, and brain stimulation (an invasive technique). Yet the Tourette community is desperate for better answers.
Patients and families are dissatisfied with the progress for conventional treatments. That's why, for several years, my books on natural approaches to Tourette syndrome have been best-sellers on Amazon.
The failure starts with tunnel vision 
Our Association for Comprehensive NeuroTherapy (ACN) conducted a survey (2003-2004) that was responded to by nearly 1800 people worldwide. The survey focused on triggers for tics—factors that patients and families observed could start or worsen tics. Well over 30 triggers were reported, from types of foods and food additives to inhalants such as dust, mold, and pollens; bright lights and video games; stimulant medications; chemical odors, viral and bacterial infections; alcohol consumption—to name just some.  As in other medical conditions, triggers can vary from person to person. Results were shared with the Tourette Association of America (TAA) which was previously Tourette Syndrome Association (TSA), our newsletters, and featured in our first book Natural Treatments for Tics and Tourette's. 
We assumed our survey would be the first of other large-scale surveys on triggers. Yet, almost 20 years later, there have not been any significant surveys. (I should qualify that: There was a targeted survey by the TSA/TAA several years after ours, but results were withheld from the public. I was told by their scientific liaison that the medical board thought the survey findings might "confuse people.")
While speaking at the Atlanta Tourette Conference in 2016, I collected feedback on triggers for tics from the audience. Click to see.
The absence of comprehensive surveys addressing Tourette's, tics, and triggers is conspicuous by its absence. Surveys are a low-cost, revealing approach used in many medical fields. In my latest book, Tourette Syndrome: Stop Your Tics by Learning What Triggers Them, I compare research "interest" for Tourette's and allergy, triggers, and diet with interest shown for other medical conditions. The PubMed database of published research was searched for these details.
The numbers presented in the charts are higher than actual studies published on the topic. For example, there are only a few, not 10, published studies on Tourette syndrome and diet. The numbers in the charts reflect not only published studies on the topic but also related research generated by a search. A comparison of these numbers gives the reader a sense of the trends.
The charts demonstrate a major lack of interest by Tourette syndrome researchers in key areas that could yield new answers and greatly improve patient care.
The scientific community for Tourette's exhibits an indefensible lack of open-mindedness. They fail to collaborate with integrative physicians or medical and scientific experts outside their narrow disciplines.  Further, they do not properly survey those dealing with Tourette syndrome to learn from their experiences. As a result, most researchers lack a basic understanding of how these factors can affect the nervous system.
NOTE: There is not a direct one-to-one comparison for each element of these charts. For example, there is currently a greater incidence of autism and ADHD than Tourette's.
Conversely, many more people have a diagnosis of Tourette syndrome (1 per 100) than have Parkinson's disease (3 per 1,000). Yet, Parkinson's research has seen a much greater focus on diverse factors including allergy, diet, the environment, and triggers than has Tourette syndrome research.
The comparison with migraine is a special situation. There is a fourfold increase in the incidence of headaches and migraine among children and adolescents with Tourette's. Even though migraine is more common than Tourette syndrome, given the "migraine-Tourette connection" we should be vigorously exploring some of the same research areas for tics as occur for migraine.
Clearly, research on Tourette's for the topics highlighted in these charts is negligible. The tic community should ask: What excuse could there be for this?
These graphs were developed four years ago. After checking PubMed for current stats, I can confirm that the relative profile remains sadly accurate.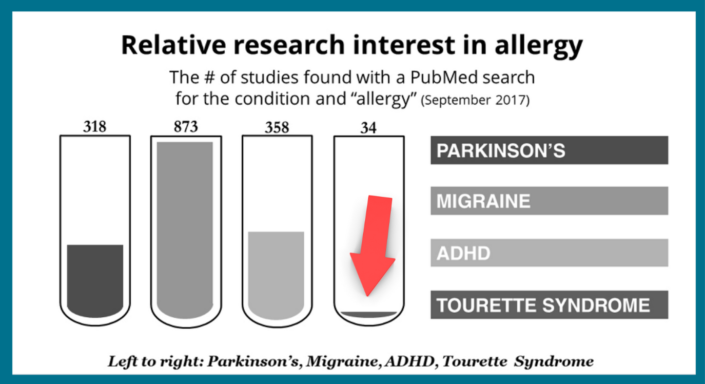 Ignoring the role of the "environment" in tics is unethical
The standard advice to Tourette syndrome sufferers is: "It's a genetic condition. Tics will come and go; there's nothing you can do about them." Patients and families hear this so often that it colors their observations and disempowers them—they don't even think to look for what might be triggering tics.
Yet, it has been established that Tourette's is not just genetically based. It is also an environmental condition. This is a documented medical fact that is rarely discussed.
When the environment is a factor in a medical condition, lifestyle, diet, medications, physical imbalances, sensory influences, infections, allergies, and exposure to toxins all have the potential to affect symptoms.
It is commonsense for research to go beyond genetics and focus on environmental issues. The chart below makes it clear that leaders in the field of Parkinson's, autism, and ADHD agree on the importance of exploring environmental influences.  The Tourette syndrome scientific community would rather ignore the subject.
Why is research for Tourette's so constipated and inadequate?
Countless families and patients have reported a connection between tic symptoms and a range of environmental factors. Why are they being ignored? I propose it's because the topics fall outside the mindset of conventional neurology, psychiatry, psychology, and behavioral therapy. You see, these are the main medical disciplines represented on the Scientific Advisory Board for the major national organization, Tourette Association of America. See for yourself. 
The Scientific Advisory Board for the Tourette Association of America excludes experts in immunotherapy/allergy, nutritional therapy, chemical sensitivity, and environmental medicine.
The ongoing failure of the Tourette Association of America to expand its scope of expertise makes us question their motives. In fact, we have suggested that this group be investigated for stonewalling and blocking information that could change the direction of future research. Since they cannot be trusted to take the lead in this effort, other organizations and funders will need to step up to accomplish this vital work.
Collaboration with world-class specialists in diverse medical areas would yield valuable answers and be of great benefit to the Tourette syndrome community. It's time for this field to forge new frontiers.