Protocol for Hydrogen Peroxide Mouth Wash and Nasal Cleanse
A team of doctors and medical staff in Ghana demonstrated that the use of  hydrogen peroxide in diluted, safe amounts according to a defined protocol effectively prevented Covid-19 infection in select hospitals. The study included front-line workers and thousands of patients.
A summary report was shared by the Orthomolecular Society in July 2022 and we've posted it on our website here: Hydrogen Peroxide as a Protection Against Covid-19. The project is a result of years of worldwide study by others on the potential beneficial effects of hydrogen peroxide. This article is being provided for informational purposes and no health claims are made. 
The protocol used for this study was provided by Seth Ayettey and the Ghana Hydrogen Peroxide Study Team. Please see the end of this article for contact information.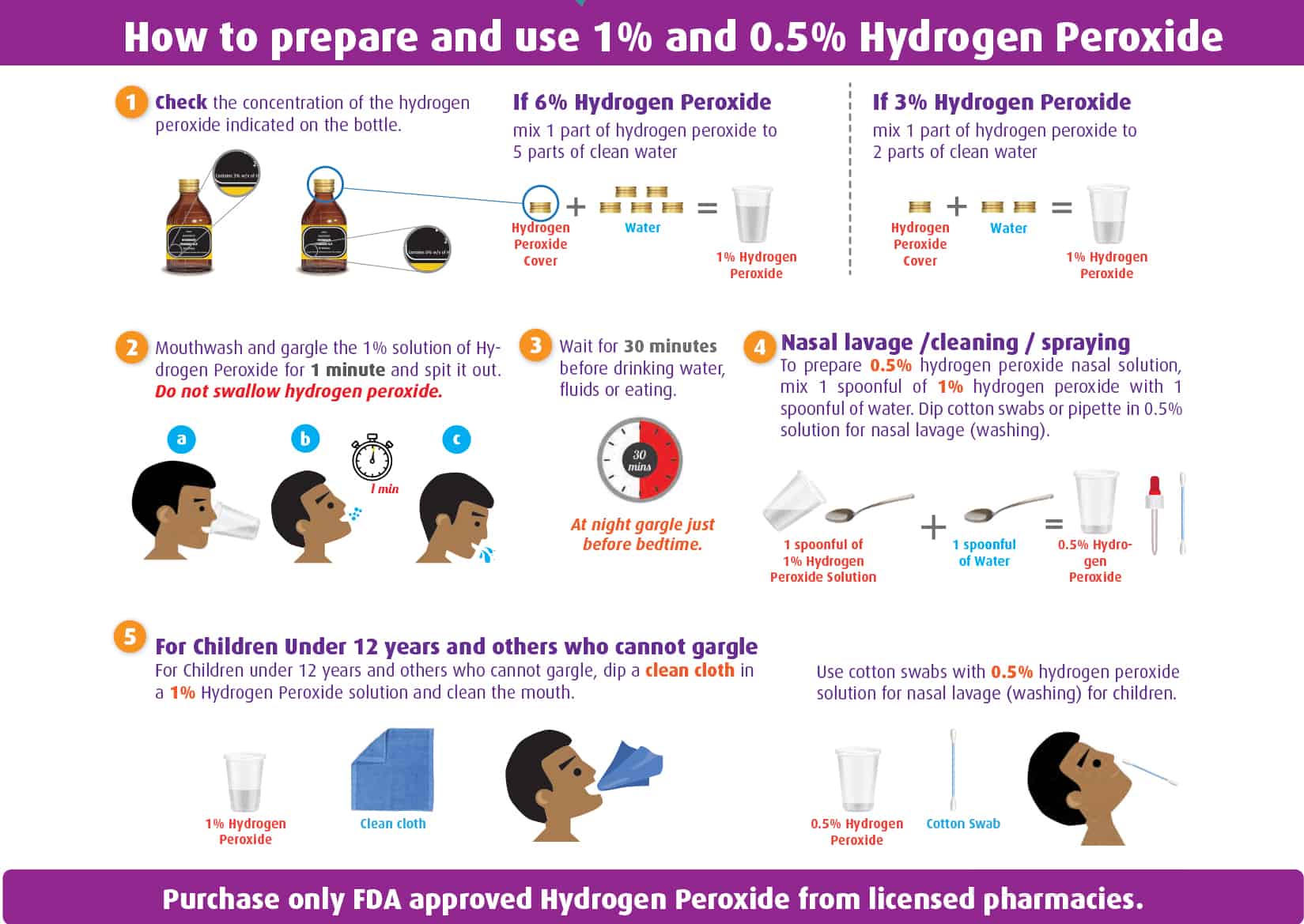 Recommendations
Update to the graph above
New guidance provided by the Hydrogen Peroxide Study Team suggests it is not necessary to wait 30 minutes after mouth washing or gargling before eating or drinking. Rather, waiting 5 minutes should suffice.
Storage
After preparing the 1% hydrogen peroxide solution for mouthwash and gargling, and the 0.5% hydrogen peroxide solution for nasal cleanse, they should be used within 3 days. The strength diminishes after day 3. The diluted solutions can be stored in open cups or other containers. The purchased hydrogen peroxide should remain in a dark container and be stored in a cool place.
Application
One tablespoon (about 15 mls) of the prepared 1% solution is adequate for mouthwash and for gargling.

It is best to rinse and gargle with hydrogen peroxide once a day. (Those at risk might use it twice a day.) Mouth washing can be done during the day and gargling is best before bed.

(Be sure to spit it out — do not swallow.)
When gargling, it is OK to pause every 15 seconds or so if you find it difficult to gargle for one minute straight. Try not to rinse after gargling.

Two to three large drops are needed for each nostril if using a pipette (eye dropper), which is ideal. Lean back and insert the drops just within the main entrance of the nose. If any reaches the throat, spit it out. One might feel a slight irritation if the drops reach the back of the nose and into the throat. A little cough might occur if the drop gets down towards the larynx.

(Do not sniff the drops into the nasal cavity.) 

As mentioned in the diagram, cotton swabs can also be used. 
Children and special needs
For children and individuals with neurological disabilities who cannot gargle, swabbing the mouth and throat with hydrogen peroxide-soaked gauze is helpful. Better still is a spray of hydrogen peroxide. Cotton swabs can be used for nasal cleanse.
Questions?

Questions on the above protocol or the study related to protective measures to reduce the chance of infection with Covid-19 may be sent to Seth Ayettey, Team Leader for the Ghana Hydrogen Peroxide Study Team. (seth.ayettey@gmail.com)