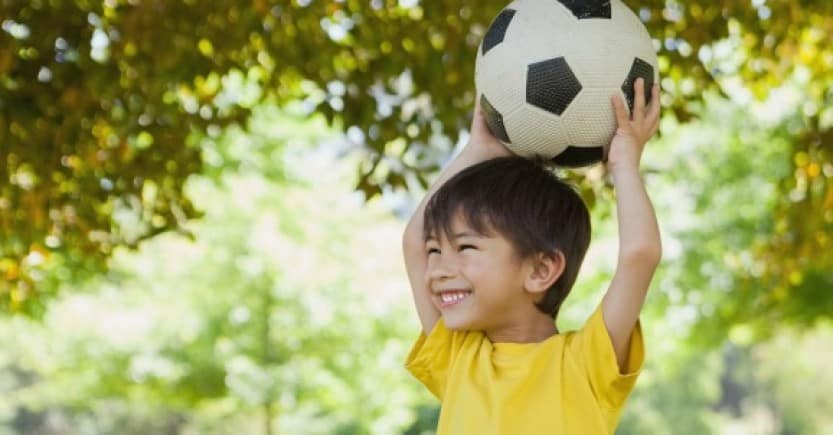 Dealing with Tourettes or Tics? I Wrote this Just for You
By Ethan's Mother
I hope my good news will encourage others who are faced with symptoms of tic disorders. We found the answers we needed for our boy's severe tics through Latitudes.org. Not only were we able to dramatically reduce symptoms but we learned what was causing them, and this opened up a whole new world for us.
When Ethan was 4 years old he had frequent eye-blinking and winking. I didn't pay much attention to it at the time. But by age 5, he started turning his neck back and forth from left to right, and then would lift his head up with shoulder shrugging. He also had grimacing, finger-drawing in the air, and frequent burping.
I was really in shock about these new symptoms. He didn't seem to pay much attention to them, but it was heartbreaking for me to watch him doing all those tics even when he was writing, riding a bike or kicking a ball.
Could there be a gut connection?
I began to wonder if Ethan's gut was unhealthy, because he was born with silent acid reflux. We assumed he grew out of this by age 1½ with the help of medicine. But he still didn't tolerate milk formula, and often complained of tummy pains after eating. Our pediatrician didn't think much about it because Ethan played happily. I noticed he burped a lot though, and it seemed other foods sometimes bothered him also.
We went to a naturopathic doctor who recommended probiotic powders. I was not familiar with them and so was reluctant to use them. The doctor said if we could heal his digestive tract it would strengthen the immune system and hopefully help his tics. I took his suggestion to remove most dairy and most sugar from his diet, and added multi-vitamins and omega-3 oils. We saw some improvement in symptoms within a week.
I posted our situation on the Latitudes.org Forum and received encouragement to go ahead and use probiotics to balance the bacteria in his gut. I learned that many other families had found a connection between the health of the gut and tics. In the coming months I found myself turning to the Forum for additional advice, too.
Learning more about diet and environmental issues
It was suggested on the Latitudes Forum that I read Sheila Rogers' book Natural Treatments for Tics and Tourette's. I ordered it on Amazon in Kindle version and devoured it. I learned a lot from the success stories in the book. I took notes, writing down all the dietary and environmental changes that families and physicians found helpful.
Weighing different approaches used by others, I developed a plan for us. I decided to go 100% dairy free. In order to be vigilant about this we did not eat out and I eliminated processed food. We also went 100% gluten free (even my soy sauce). We avoided all MSG and artificial food additives while decreasing sugar. I cut Ethan's iPad and TV time in half because I saw tics were often worse with electronics.
We were thinking of seeing an environmental physician, but since our son was improving a bit, we wanted to wait and see what results we could get with these changes first.
I suspected dust allergies, because Ethan would wake up from his sleep sniffing, no matter what the season was. He also complained of a stuffy nose when falling asleep. But time was running out to address different issues as we had to leave for Hong Kong within a week. My husband made arrangements for our son's bedroom carpet to be cleaned while we were gone. At least the tics had been reduced by the time we left on our trip.
A setback when we traveled to Hong Kong
We were in Hong Kong for one month. Unfortunately, Ethan developed grimaces of all kinds while there, as well as neck- turning, shoulder-shrugging, eye-blinking, arm movements, complaints of itchiness, and even sharp neck-jerking on occasion. We stayed at my parents' and realized there was mold on the wallpaper and dust in the home. Ethan ended up having food with MSG every day because it is commonly used there, and he had some processed food with milk content, too. He spent a lot of time using an iPad and was not sleeping enough.
Basically our health plan for our son went out the window and there was little I could do about it. I was beside myself watching the tic symptoms worsen so much, and now even Ethan was feeling the effect of the tics.
Getting back on track
Once we were home in New Jersey, we immediately started to implement dietary and environmental changes. We needed to undo the damage that had been done while away and get Ethan on the road to recovery.
We followed the 100% dairy-free, gluten-free and additive-free diet with no MSG. We didn't want him to sleep in a carpeted room even though it had been cleaned, so we moved him out of that room to a bedroom with a wooden floor. Dust mite proof casings were put on his pillows and mattress. I began thoroughly dusting the whole house three times a week. We washed all sheets twice a week, and installed a non-ionized air purifier in his room. We live in New Jersey, but even in the winter we close the door to his bedroom and open his window to get fresh air every day. (I warm it up afterwards!)
I kept a journal of exactly what he ate every day and rated his tics each day.
This was very helpful! With all these dietary and significant changes in the home, many major and obvious tics subsided within few weeks. As a mother, I still could notice that he ticced a little when reading quietly, watching TV or using other electronics. But it would not draw the attention of others anymore.
Celebrating success!
Ethan is now six and his tics are 98% gone. I have recapped our main efforts below. We have seen how these changes have improved his tics, and how a lapse can trigger a temporary increase. We know for certain that the improvement in his symptoms is not simply a coincidence. Ethan has adjusted beautifully to these interventions.
This is what works for us, and I share it knowing that children's needs are different:
100% dairy-free; 100% gluten-free;
Sugars cut by 60%;
No commercial baked goods;
Artificial colors, flavors and preservatives cut by 90%;
No MSG;
Reduced iPad time/TV to two hours per week only;
Ethan takes probiotics twice a day and papaya enzymes at every meal; multivitamins occasionally
He sleeps in a bedroom with wood floors; he has allergy-proof casings on all bedding and we use organic cotton top sheets;
We have a non-iodized air purifier his bedroom;
His bedroom window is opened each day to bring fresh air in;
Dusting is done regularly;
Only natural cleaning products are used in the home, mostly vinegar with water with microfiber cloths;
All personal products and detergents used by the family are unscented;
Ethan uses fluoride-free, natural toothpaste
With all this, I and have discovered that dairy triggers his worst tics.
I'm so grateful for the help and encouragement received from parents on the Latitudes.org Forums and from Sheila's book Natural Treatments for Tics and Tourette's.
Parents should know that there is hope for treating Tourette's and tic disorders naturally. I encourage all families to explore environmental, dietary, and nutritional changes, and to monitor use of electronics. Yes, it takes focused effort and determination to go beyond the norm, but it is so very much worth it!
This account was published anonymously to protect Ethan. The photo is a stock image.